We are excited to announce our next in-person ASYRAS event! Our III Research Workshop in English Studies will take place at the University of Oviedo on June 22nd-23rd, 2023.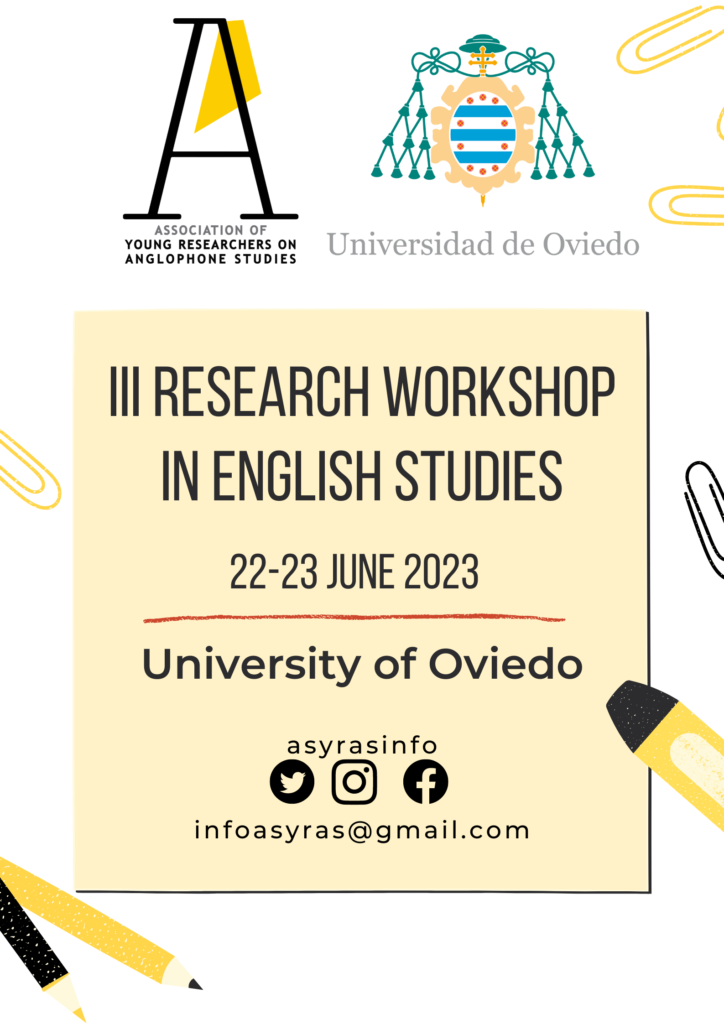 After the COVID-19 pandemic, we can finally return to our in-person workshops, and we couldn't be happier to arrange the next one in Oviedo after more than three years of waiting!
This workshop aims to bring young and potential researchers to English studies together and provide them with tools to help them advance in their academic careers. Attendees will be in contact with experts from national and international universities and the literary and editorial fields, who will give some valuable advice to help them advance in their careers. Apart from a series of interesting and useful talks on crucial stages and procedures of academic life, our workshop will offer practical sessions covering essential aspects such as academic writing, oral skills and the dos and don'ts of the PhD journey.
The workshop will count on the following confirmed keynote speakers: Dr Rodrigo Pérez Lorido (University of Oviedo), Dr Sara Prieto García-Cañedo (University of Alicante), Dr Calum Rodger (Glasgow-based independent scholar, performer and poet—2019 Scottish Poetry Slam Champion), and Sarah Winnington (pseudonym of Sara Areces Verdes, author of the series Broken Strings [2021, Penguin]). Here you can read more information about them and the title of their talks.
Also, the programme is out! Check it out here to see the rest of the workshop sessions.
Registration for the III Research Workshop in English Studies is now open. You can register with the following application form, available here. The deadline for registration is June 9.
Workshop venue information
Should you have any queries, please contact: infoasyras@gmail.com